Back to Products
Thermal Transfer Ribbons
Dynic's product range of premium quality thermal transfer ribbons is available for all thermal transfer printer technologies. Our flat head, near edge and inline ribbons are designed to print on a wide variety of materials including Dynic's exclusive care label materials. A comprehensive range of wax, wax/resin and resins are available. We can provide you with individual solutions over a variety of industries, including flexible packaging, care label printing, industrial/chemical labeling, pharmaceutical and food industry sectors.
TTR ribbons are available in a mixture of black and colour formulations and with our bespoke slitting service, can meet all O.E.M. printer specifications/requirements.
Wax
Wax ribbons are the most common type of TTR used for general labelling, product identification and ticketing. These grades require a broad substrate flexibility, often at high print speeds yet are required to have significant scratch and smear resistance for everyday use.
Wax-Resin
These grades are a combination of both wax and resin components which result in an increased durability in applications whilst retaining a wide range substrate flexibility.
Resin
Resin ribbons are recommended when your application requires the most durability finished product and are often used in combination with a suitably receptive substrate. Resin products are typically used when products require resistance against specific chemicals or processes.
Textile Resin
Textile Resin products have been specially formulated to work in combination with a variety of TTR receptive care label materials.
As a manufacturer of care label materials Dynic (UK) Ltd can provide you with this matched combination. Traditionally only sold into garment and apparel industries this sector now includes new area such as soft furnishings, automotive and aviation applications.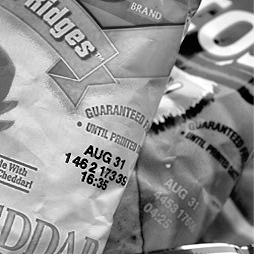 Thermal Transfer Overprinting /Inline Products
These products are ideally suited for the demands of high-speed printing environments and printing onto flexible packaging.
Dynic can provide you with a range of wax-resin or resin grade solutions for this rapidly expanding market sector including solutions which are ISEGA approved and are registered as safe for direct food contact.